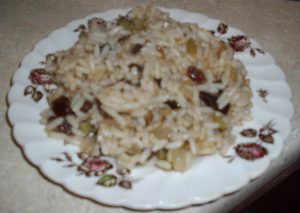 This is one of my favorite side dish recipes, give to my mother decades ago by a woman that was married to one of my mom's cousins that was a very good cook. It is wonderful as a side dish for meat loaf or pork especially. Not difficult to make, but it does take time to do all the chopping of the ingredients. This also doubles and freezes well.
Ingredients:
3 cups cooked white rice (around 1 cups uncooked) set aside.
1/2 cup finely chopped onion
1/2 cup finely chopped celery
2/3 cup finely chopped peeled apple
1/2 cup raisins that have been soaked in hot water for around 15 minutes
1 1/2 Tablespoons butter or margarine
1 Tablespoon brown sugar
1/4 teaspoon ground cinnamon
1/4 teaspoon ground allspice
A few shakes each of salt and pepper to taste.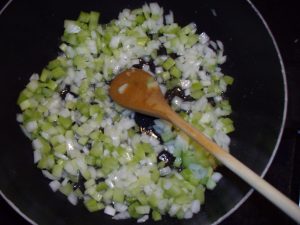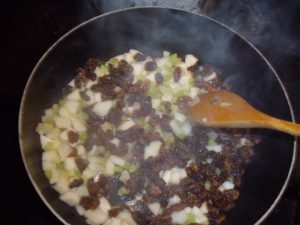 Melt the butter or margarine in a good sized pan on medium high heat. Add the chopped celery and onions, stir fry them until they begin to turn brown, then add in chopped apple, drained raisins, brown sugar and allspice and cinnamon. Continue stir fry cooking until the apples are no longer firm. Turn off heat, mix in the previously cooked white rice. Serve and enjoy!